Cabbage Rolls Smothered in a Warm Spicy Tomato Sauce
Sautéed onions and garlic provided a savory foundation, and ground ginger, cinnamon, and nutmeg adds a warm spice flavor to the sauce.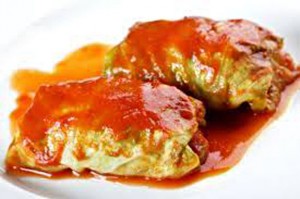 Ingredients
1 large head green cabbage, cored
1 tablespoon vegetable oil
1 onion, chopped fine
3 garlic cloves, minced
1 teaspoon ground ginger
½ teaspoon ground cinnamon
¼ teaspoon ground nutmeg
1 (28-ounce) can tomato sauce
¼ cup packed light brown sugar
3 tablespoons red wine vinegar
Salt and pepper
2 slices hearty white sandwich bread, torn into pieces or ½ cup Panko crumbs
½ cup milk
1 pound 85 percent lean ground beef
¾ pound bratwurst, uncooked, casings removed
Directions
Adjust oven rack to middle position and heat oven to 375 degrees. Place cabbage in large bowl, wrap tightly with plastic, and microwave until outer leaves of cabbage are pliable and translucent, 3 to 6 minutes. Using tongs, carefully remove wilted outer leaves; set aside. Replace plastic and repeat until you have 15 to 17 large, intact leaves.
Heat oil in Dutch oven over medium-high heat until shimmering. Cook onion until golden, about 5 minutes. Add garlic, ginger, cinnamon, and nutmeg and cook until fragrant, about 30 seconds. Transfer half of onion mixture to small bowl and reserve. Off heat, stir tomato sauce, sugar, vinegar, ½ teaspoon salt, and ¼ teaspoon pepper into pot with remaining onion mixture until sugar dissolves.
Pulse bread and milk in food processor to smooth paste. Add reserved onion mixture, beef, bratwurst, ½ teaspoon salt, and ¼ teaspoon pepper and pulse until well combined, about ten 1-second pulses.
Trim tough ribs from cabbage leaves (see related Step by Step), roll 2 heaping tablespoons of meat mixture into each leaf, and arrange rolls, seam-side down, in 13- by 9-inch baking dish. Pour sauce over cabbage rolls, cover with foil, and bake until sauce is bubbling and rolls are heated through, about 45 minutes. Remove foil and bake, uncovered, until sauce is slightly thickened and cabbage is tender, about 15 minutes. Serve.
Notes
If the tops of the cabbage rolls appear dry after the foil is removed in step 4, spoon some of the sauce over them before returning to the oven.

You can substitute ½ cup Panko crumbs for the sandwich bread just mix into the milk to form the paste. Also you can instead of using a food processor just mix crumbs, onions, beef, and bradwurst by hand.

One of the keys to keeping cabbage rolls intact is to roll them as tightly as possible—which can be a challenge with tough, fibrous cabbage leaves. Here's how we solved the problem.

1. Remove the thick rib from the base of the cabbage leaves by cutting along both sides of the rib to form a narrow triangle. Continue cutting up the center about 1 inch above the triangle.
2. Overlap the cut ends of the cabbage to prevent any filling from spilling out.
3. Place 2 tablespoons of the filling ½ inch from the bottom of the leaf where the cut ends overlap. Fold the bottom of the leaf over the filling and fold in the sides. Roll the leaf tightly around the filling to create a tidy roll.