Cabbage Roll Soup
Cabbage Roll Soup is the perfect way to enjoy cabbage rolls without all of the work! a rich and hearty soup loaded with cabbage, meat & rice; perfect for a winter or fall evening!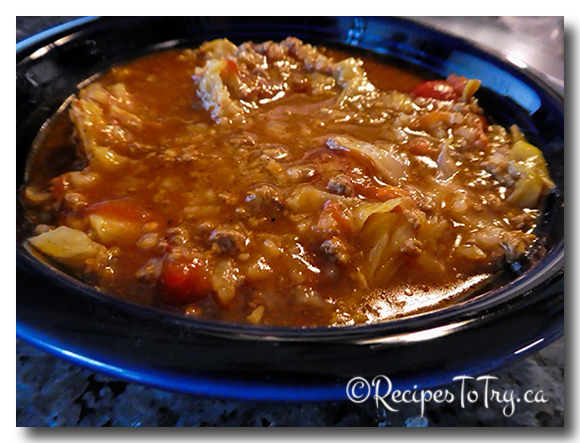 Prep time:
Cook time:
Total time:
Ingredients
1 large onion, diced
3 cloves garlic, minced
1 lb lean ground beef
½ lb lean ground pork
¾ cup uncooked long grain rice
1 medium head cabbage, chopped (core removed)
1 (28 ounce) can diced tomatoes
1 Habanero Pepper chopped very fine (optional)
2 tablespoons tomato paste
4 cups beef broth
1½ cups V8 or other vegetable juice
1 teaspoon paprika
1 teaspoon thyme
1 tablespoon Worcestershire sauce
1 bay leaf
Directions
In a large pot, brown onion, garlic, pork and beef. Drain any fat.
Stir in chopped cabbage and let cook until slightly softened (about 3 minutes).
Add all remaining ingredients, bring to a boil and reduced heat to medium low. Cover and simmer on low until rice is fully cooked (about 25-30 minutes)
Remove bay leaf and serve.
Notes
This soup comes out very thick, almost stew-like, if you prefer a more soupy consistency, you can add more broth. the leftovers) are amazing!