Butter-Baked Potatoes
The Best roasted potatoes ever. There is never enough best to double the recipe.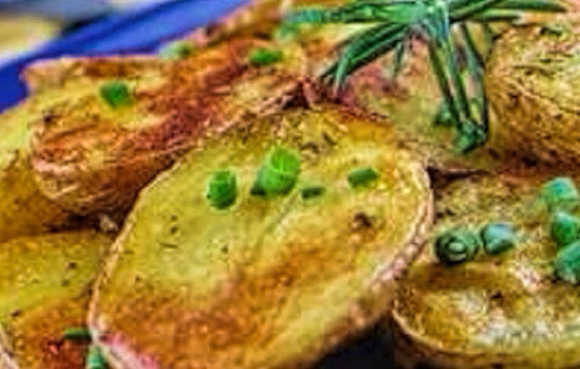 Ingredients
¼ cup butter
3 tbsp. green onions, finely chopped
3 large potatoes, peeled
Salt and pepper to taste
2 tbsp. grated Parmesan cheese or more
Directions
Preheat oven to 500 F . Melt butter in a frying pan; add onion and sauté until tender.
Halve potatoes lengthwise, then slice crosswise into -thick slices (they will be half-moon shape).
Do not put potatoes in water after slicing. Immediately line up in buttered 13x9-inch baking pan with slices overlapping.
Pour melted butter over potatoes. Season with salt and pepper. Bake 20 minutes. Remove from oven; sprinkle with Parmesan cheese.
Bake additional 5-7 minutes or until cheese is melted and slightly browned.
Notes
Variations: some like 'em hot!
1 cup grated Cheddar cheese (Optional)
1 cup cornflakes, crushed (Optional)
Combine cheese and cornflakes. Sprinkle over buttered potatoes and bake at for 30 minutes, omitting the parmesan cheese.