Bok Choy and Chicken Soup
This dish has the comforts of chicken soup, with a kick from the ginger and chile pepper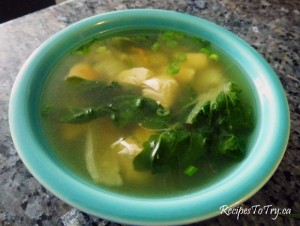 Prep time:
Cook time:
Total time:
Ingredients
4 cups low sodium chicken broth
2 cups water
2 stalks celery (thinly sliced, about ½ cup)
4 scallions (thinly sliced, white and light-green parts separated)
2 cloves garlic (thinly sliced)
1 piece ginger (peeled and julienned)
1 serrano chile (small, stemmed and thinly sliced, about 1 tablespoon)
1 lb boneless, skinless chicken breast halves
2 heads baby bok choy (about 12 ounces, stalks sliced crosswise into ½-inch pieces, leaves left whole)
¾ tsp fish sauce
coarse salt
lime wedges (for serving)
Directions
Combine broth, water, celery, scallion whites, garlic, ginger, and chile in a medium saucepan; bring to a boil over high heat. Reduce heat to medium, add chicken, and cook at a bare simmer until a thermometer inserted into thickest part of meat reaches 160 degrees, about 13 minutes. Remove chicken from broth. When cool enough to handle, tear into 1-inch pieces and divide among 4 bowls.
Meanwhile, add bok choy to broth. Simmer until just tender, about 5 minutes. Stir in fish sauce; season with salt. Ladle soup over chicken and sprinkle with scallion greens. Serve with lime wedges.