Best Gravy Recipe
A recipe that yields spectacular results and can be made up to a week ahead. Perfect for holiday meals just heat up no more making a gravy at the last minute.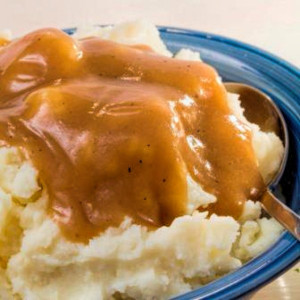 Ingredients
For the turkey Stock
1 large onion, chopped
2 carrots, chopped
2 ribs celery, chopped
2 teaspoons vegetable oil
2 large turkey wings
2 tablespoons cold water
3 cups cold water
4 cups chicken broth
4 sprigs fresh thyme
2 cloves garlic (optional)
3 tablespoons butter
For the Gravy
½ cup unsalted butter
½ cup all-purpose flour
2 teaspoons dried crushed rosemary
1 teaspoon dried sage
½ teaspoon ground thyme
1 teaspoon ground black pepper
1-2 teaspoons kosher salt, to taste
4 cups of turkey stock **
1 cups chicken broth
½ cup Chardonnay
Directions
For the Turkey Stock
Preheat oven to 400 F (200 C).
Combine onion, carrots, celery, and vegetable oil in a large roasting pan and toss to coat. Place turkey wings on top of vegetables
Place roasting pan in the preheated oven and cook until the turkey wings have browned and vegetables are caramelized and softened, 45 to 60 minutes.
Transfer turkey wings and vegetables to a large stockpot. Place the roasting pan over a stovetop burner on medium heat. Pour 2 tablespoons cold water into the pan and bring to a boil, scraping up any browned bits. Transfer mixture to the stockpot and add 3 cups cold water & 4 cups chicken broth, thyme, and garlic.
Bring turkey wing mixture to a boil. Reduce heat to low and simmer, uncovered, until meat falls off the bone, about 3 hours or you could place in the slow cooker on low for 8 hours or high 4 hours.
Strain turkey stock and discard all the solids.
Cool and freeze if not making the gravy the same day.
For the Gravy
Melt butter in a medium saucepan, over medium-high heat. Once butter is completely melted whisk in flour, herbs, pepper and 1 teaspoon salt. Cook for 2-3 minutes, whisking frequently to cook off the floury taste.
While whisking, pour wine into the roux (flour mixture). Continue whisking until mixture bubbles up and becomes a thick consistency, about one minute. While whisking, add chicken stock. Continue whisking until mixture is completely smooth.
Bring gravy to a boil. Whisk occasionally. Boil 10 minutes until gravy has thickened.
Notes
You can forgo making the turkey stock and just use chicken broth. But it is worth the time and effort to make the stock as the flavour is out of this world. It freezes well so can be made well in advance.
If using salted butter, decrease salt by ½ teaspoon to start. Salt content in chicken stock varies greatly. Start with 1 teaspoon of salt and add more as necessary. If the gravy doesn't taste quite right, it could need more salt.
Gravy can be made ahead and kept in the refrigerator for up to a week. Reheat over low heat
If you are sensitive to alcohol, you can substitute white grape juice or chicken stock