Baked Zucchini Bites
Baked Zucchini Bites: Crispy edges and cheese make these Zucchini bites so so good you'll have a hard time from eating them all.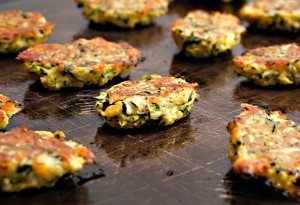 Ingredients
1 packed cup grated zucchini
1 large egg
¼ medium onion, minced
¼ cup grated reduced fat sharp cheddar cheese
¼ cup panko
1 teaspoon dried Italian seasoning
¼ tsp kosher salt and black pepper to taste
Directions
Preheat oven to . Spray a baking sheet with cooking spray.
Grate the zucchini into a clean dish towel until you have 1 packed cup. Wring all of the excess water out of the zucchini, there will be a lot of water. In a medium bowl, combine all of the ingredients and season with salt and pepper to taste.
Spoon 1 tablespoon of mixture in your hands and roll into small ovals. Place on the cookie sheet and bake for 16 to 18 minutes, turning halfway through cooking, until golden.
Notes
Squeeze as much water out of the shredded zucchini, use paper towels to bloat more water out of the zucchini.
Double the recipe and freeze them for later. (Be sure to bake them first.). They'll heat up nicely in a frying pan.
Nutrition Information
Serving size:
4 bites
Calories:
108
Fat:
4.3 g
Carbohydrates:
11.5 g
Sugar:
2 g
Fiber:
1.8 g
Protein:
6.8 g