Asian Salmon with Mushrooms and Bok Choy (Cuisinart Convection steaming oven directions included)
This Asian-inspired salmon is ready in just thirty minutes. A simple marinade of soy, Japanese rice wine, fresh garlic and ginger gives the roasted fish and vegetables a complex flavor you'll love and want make again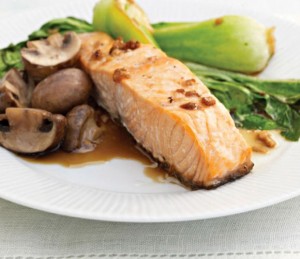 Ingredients
1 tbsp. olive oil
Sea salt and freshly ground black pepper
1 tbsp. Ketjap Manis (Indonesian soy sauce) or dark soy sauce
4 salmon fillets, each about 5½ oz(150 g)
1 tbsp. Mirin (Japanese rice wine)
2 Bok Choy, quartered lengthwise
2 in (5 cm) piece of fresh ginger, peeled and finely chopped
7 oz. (200 g) Mushrooms, halved if large
2 garlic cloves, finely chopped
Directions
Preheat the oven to 400 F (200 C). Combine the olive oil, soy sauce, mirin, ginger, and garlic in a small bowl, and mix together well. Season with salt and pepper.
Put the salmon, Bok Choy, and Mushrooms in a roasting pan, then drizzle with the oil mixture and coat well. Put into the oven to roast for 20-25 minutes or until the salmon is cooked through. Serve with rice.
For the Cuisinart Convection Steaming Oven place baking pan on middle rack. Put the vegetables in pan with the Bok Choy in the middle and mushrooms on outside. Place the Salmon on top of the Bok Choy. Set Oven to Bake Steam at 450 F for 15 to 20 minutes.
Notes
If you can't get hold of Mirin (Japanese rice wine), use dry sherry or omit altogether.