ASIAN CHICKEN WITH PEACHES
So many flavors, so little time! You can get this easy supper on your table 30 minutes.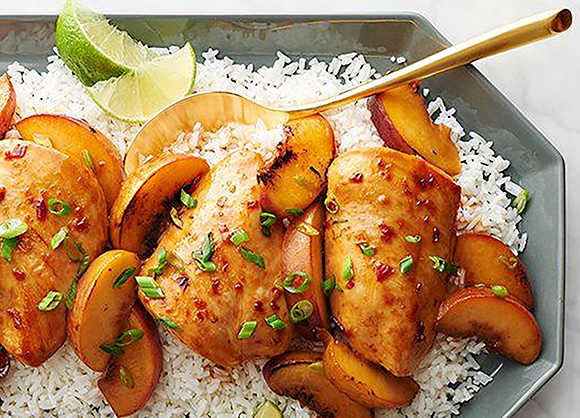 Ingredients
1 tablespoons butter
4 boneless skinless chicken breasts (1 lb)
¾ teaspoon salt
2 peaches pitted and sliced
2 green onions, whites, and greens separated, sliced on the bias
1 tablespoons packed brown sugar
¼ cup water
1 tablespoon rice vinegar
1 ½ teaspoons chili garlic sauce
1 ½ teaspoons soy sauce
Lime wedges
Directions
Heat oven to . In ovenproof skillet, melt butter over medium-high heat. Rub chicken breasts with salt; add to skillet. Cook 3 to 4 minutes or until browned on the first side. Turn; cook 3 to 4 minutes longer or until browned on the second side. Transfer to plate; cover to keep warm.
Add peaches and green onion whites to skillet; cook 1 to 2 minutes or until beginning to brown. Stir in 1 tablespoon of the brown sugar and the water; cook 1 to 2 minutes or until caramelized. Remove from heat.
In a small bowl, mix remaining 1 tablespoon brown sugar, the rice vinegar, chili garlic sauce and soy sauce. Place chicken on top of peaches in skillet; brush rice vinegar mixture over breasts. Bake 16 to 20 minutes or until juice of chicken is clear (when center of thickest part is cut at least ). Top with green onion greens. Serve with lime wedges and rice.
Notes
You can use a 398 ml can of sliced peaches in water or pear juice or even frozen (thaw first). This is especially good served with
Dirty Rice