Apple & Sausage-Stuffed Pork Chops with Green Beans, Onion & Sweet Red Peppers
If you are looking for a new recipe to jazz up your dinner routine, then this sausage and apple stuffed pork chops will do just that. An additional bonus is that the vegetables are roasted in the same pan. Delicious.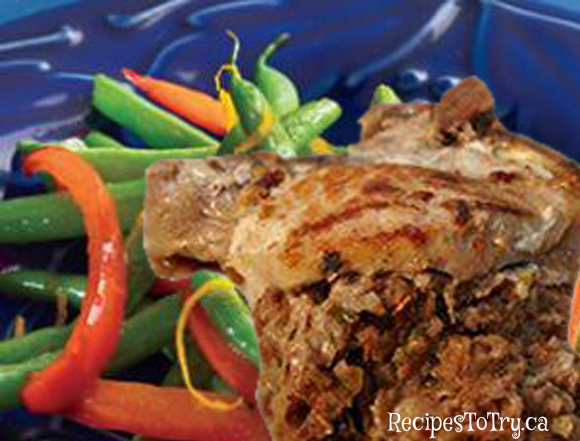 Ingredients
4 ½ -in. Thick loin pork chops (each about .)
4 cups apple juice
1 cup distilled white vinegar
1 lb. Fresh pork sausage, ground and removed from casing
1 apple, peeled and finely diced
1 lb. Green beans, trimmed
1 red pepper, core removed and thinly sliced
1 medium onion, sliced
2 tbsp. Hickory smoked salt
½ cup barbecue sauce
Salt and Pepper
Directions
Place the pork chops in a large sealable bag, then pour in the apple juice and vinegar. Place in refrigerator and marinate for at least 4 hours, or overnight.
Preheat oven to 375 degrees. Remove the pork chops from the marinade, and discard the marinade. Cut a -long slit about deep in the side of each chop opposite the bone, making a pocket. In a separate bowl, mix sausage, apples and 1 tablespoon of the barbecue sauce.
Stuff the sausage mixture deep into the pocket of each chop. For each pork chop, use 3 toothpicks to close off the pocket and hold the sausage and apple in place. Season both sides of each chop with salt and pepper.
Put the green beans, sweet red pepper and onions in a casserole or baking dish. Place pork chops on top. Brush ½ of the barbecue sauce on the top of the pork chops. Place the pan in the oven, and cook for 30 minutes. Flip, glaze with the barbecue sauce, and cook an additional 20 minutes (or until a thermometer inserted into the thickest part of the chop reads 145 degrees).
Remove the pan from the oven. Transfer the pork chops to a plate and let rest, loosely covered, for 10 minutes. Serve with green beans, peppers and onions.
Here's a video on how to make these pork chops.
(There is a 15 second Ad before the actual video starts)