Apple Caramel Crumble Cheesecake
Saw this recipe on facebook but the ingredients were incorrect or misleading. Have redone the recipe. It is delicious. It has a cookie crumb base, the middle a classic cheesecake topped with a caramel cinnamon apple layer then a buttery oat streusel.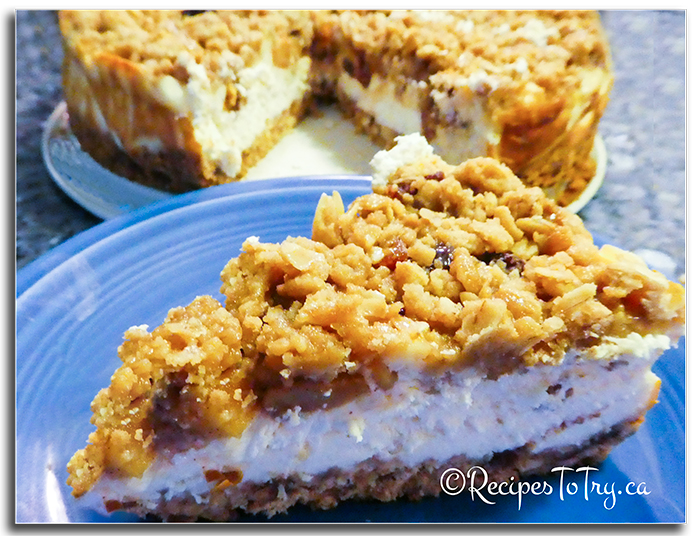 Ingredients
Caramel Apple Layer
4 cored, peeled, cored and diced apples
½ cup sultanas' raisins
½ cup brown sugar
1 tsp cinnamon
Crumb base
14 biscuits digestive (about 1 ½ cups of crumbs)
¼ cup melted butter
Streusel Topping
½ cup oats
½ cup softened butter
½ cup dark brown sugar
¾ cup flour
Pinch of salt
Cream Cheese Filling
3 8 oz packages Philadelphia cream cheese
2 tablespoons sour cream
2 tablespoons whipping cream
3 medium eggs
½ cup sugar
1 teaspoon vanilla
Directions
Baked Apple layer
Heat the oven to 350°F
In a baking tray mix apples, sugar, cinnamon and sultanas and bake for 25 minutes.
Remove from oven
Turn the oven down to 320°F.
Crumb base
In a food processor, add digestive cookies and melted butter and pulse until it is a soft, crumbly texture, set aside.
Streusel Topping
In a food processor add oats, butter, brown sugar, flour and salt blend until the butter has mixed in and everything is soft and crumbly then set aside. Can be mixed with fingers also until lumpy.
Cheesecake Filling
In the food processor add the cream cheese, whipping cream, sour cream, sugar and vanilla process add eggs pulse until smooth
In a parchment paper lined springform release tray (sides only) press down the biscuit base until compact, then add the cheesecake filling and smooth down with a spatula. Finally, add the chopped apples in a layer and pour over any caramel juice from the pan then sprinkle the crumble topping on top of the apples.
Bake for 60 to 70 minutes at 320° F or until a toothpick comes out clean when inserted in the center. Remove from oven, Drizzle some amazing caramel sauce over the top and allow to cool and set for at least three hours in the fridge.
Notes
If you do not have a food processor
--just a bowl and electric beater works just as well
The original recipe called for mascarpone which is hard to find.
If you prefer and you can find Mascarpone use a 8 oz. tub of Mascarpone and remove the 1 8 oz. package of cream cheese, the 2 tablespoons whipping cream and the 2 tablespoons of sour cream from the above recipe.
You can use the light cream cheese,
no fat sour cream and substitute Splenda for the sugar and the Splenda brown sugar blend. Will save a few calories.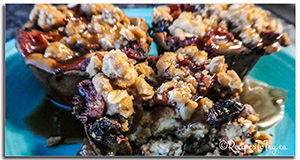 Have also made this as a mini cupcake apple crumble cheesecake cupcake.
Instead of the springform pan use the mini cheesecake baking sheets with removable bottoms. To save time use a cookie as the base layer. I used Celebration Caramel Truffle Butter Cookies.

This Video has incorrect ingredient amounts ignore and use the above recipe's amounts instead. Does show you how to put it together correctly.