Actifry Scallops and Asparagus Sauté with Lemon and Thyme
This is so delicious I couldn't stop eating it. If you do not have an actifry machine you could just do this as a stir fry.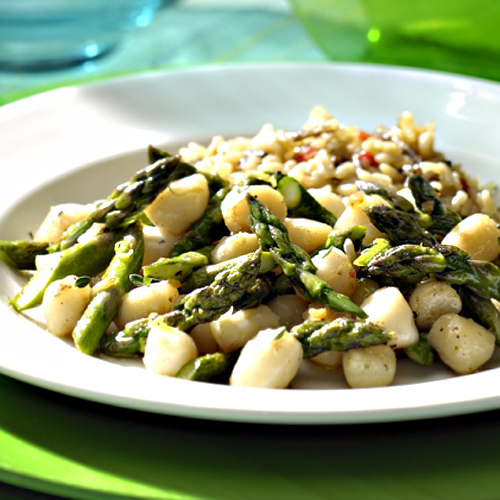 Prep time:
Cook time:
Total time:
Ingredients
1 . bay scallops
1 bunch of asparagus (about )
¼ cup diced shallot
2 ActiFry Spoons (tbsp.) olive oil
1 ActiFry Spoon (tbsp.) fresh chopped thyme leaves
2 tsp. finely grated lemon zest
½ tsp. salt
¼ tsp. freshly ground black pepper
2 ActiFry Spoons(tbsp.) fresh lemon juice
Directions
Rinse the scallops and pat dry with paper towel. Trim the asparagus and cut on the bias into pieces. Place the shallots into the ActiFry pan, drizzle with ½ spoonful (tbsp.) of oil and cook for 3 minutes. Add the thyme, lemon zest, asparagus, scallops salt and pepper. Drizzle with the remaining oil and cook for 9 minutes, until the scallops are opaque and the asparagus is crisp-tender. Drizzle with the lemon juice.
Notes
Serve with the accumulated juices, over rice.