Kale & Mixed Bean with Turkey Sausage Soup
The flavor of the sausage gives all those healthy Veggies just what they need to make it perfect and delicious.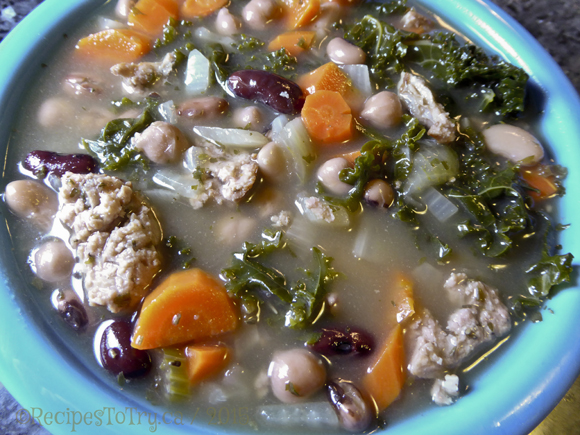 Prep time:
Cook time:
Total time:
Ingredients
1 Tbsp. olive oil
12 oz. Turkey Sausage, (about two)
1 ½ cups chopped carrots (about 3)
1 ⅓ cups chopped yellow onion (1 medium)
½ cup chopped celery (2 stalks)
4 cloves garlic, minced
1 habanero pepper membrane & seed removed Chopped fine
5 cups low-sodium chicken broth
1 cup water
1 Tbsp. Dried parsley
1 tsp dried rosemary, crushed
½ tsp dried oregano
Salt and freshly ground black pepper, to taste
6 oz. kale, thick ribs removed, chopped (about 1½ bunches. 5 oz if using pre-cut)
1 (19 oz.) can of Mixed Beans, drained and rinsed
1 tsp fish sauce
Shredded parmesan cheese, for serving
Directions
Heat olive oil in a large pot over medium heat.
Add sausage and cook until browned, about 5 minutes. Remove sausage slice and set aside.
Return pot to medium heat, add carrots, onion, and celery and sauté 3 minutes (while scraping the bottom of the pan to get the browned bits), add garlic and sauté 1 minute longer.
Stir in chicken broth, water, parsley, rosemary, oregano, habanero pepper and season with salt and pepper to taste.
Bring to a boil over medium-high heat, and allow to boil gently 10 minutes.
Add kale, beans and sliced cooked sausage and allow to boil 10 minutes longer until kale and veggies are tender.
Add the fish sauce. You can add more broth at this point to thin if you wish.
Serve warm, top each serving with parmesan cheese.