Easy Ravioli Bake
Just four ingredients and 10 minutes' prep is all you need to for an oven-ready Italian-style casserole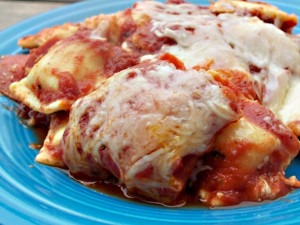 Ingredients
1 jar (26 to ) tomato pasta sauce (any variety)
1 package (25 to ) frozen cheese-filled ravioli
2 cups shredded mozzarella cheese ()
2 tablespoons grated Parmesan cheese
Directions
Heat oven to . Spray bottom and sides of rectangular baking dish 13x9x2-inches, with cooking spray.
Spread ¾ cup of the pasta sauce in baking dish. Arrange half of the frozen ravioli in single layer over sauce; top with half of the remaining pasta sauce and 1 cup of the mozzarella cheese. Repeat layers once, starting with ravioli. Sprinkle with Parmesan cheese.
Cover with aluminum foil and bake 40 minutes. Remove foil; bake uncovered 15 to 20 minutes longer or until bubbly and hot in center. Let stand 10 minutes before cutting.
Notes
The variations are unending. Switch the type of ravioli from lobster ravioli to artichoke ravioli, spinach and cheese. Add different herbs on top of the tomato sauce parsley, thyme, oregano. Add frozen spinach or ground meat on top of the tomato sauce. Change the cheese to sharp cheddar and Italian,
Watch the Video on how to Make