Country French Chicken (Cuisinart Steam Convection Oven)
This is the ultimate winter comfort dish, to prepare as well as to eat. We add steam to an otherwise dry oven and the results are amazing!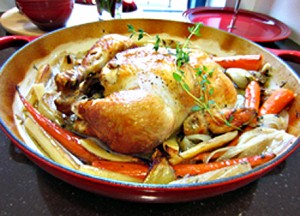 Prep time:
Cook time:
Total time:
Ingredients
2 chicken leg ( 4 pieces)
½ teaspoons sea salt
½ teaspoon black pepper
1 teaspoons poultry seasoning
1 medium onions, peeled and quartered
1 large carrot, halved lengthwise and sliced to 2 inch pieces
1 parsnips, peeled halved lengthwise sliced to 2 inch pieces
3 sprigs thyme
1 bay leaf
⅓ Cup natural apple cider
⅓ Cup chicken stock
⅓ Cup dark beer or ale
Directions
Wash and pat dry the chicken. Season the chicken with salt, pepper and poultry seasoning. Scatter the onion, carrot, parsnips, thyme, and bay leaf in the Baking tray. Pour the apple cider, chicken stock and beer over the vegetables. Nestle the chicken on top of the vegetables.
Place the Pan on the lower rack in the Cuisinart Convection Steam Oven, select Bake Steam, oven temperature at 450° F. set the Time for 35 minutes or cook until juices run clear or an internal temperature of 165°F.