Mashed Cauliflower Garlic & Romano Cheese
Creamy and delicious a good alternative to mashed potatoes. A perfect match to pork chops and green beans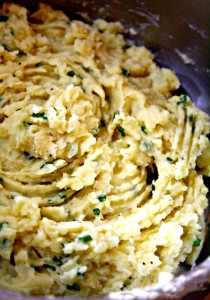 Ingredients
1 head cauliflower
salt & freshly cracked pepper
4-6 cloves garlic, peeled
⅓ cup extra virgin olive oil
⅓ c cream
⅓ c grated Romano cheese
1 Tablespoon chopped chives
Salt & freshly cracked pepper
Directions
Clean cauliflower and break into large flowerets. In a large piece of aluminum foil, tightly wrap cauliflower flowerets and peeled garlic cloves that have been seasoned with salt and pepper and place in 350°F oven and bake for 45-55 minutes or until tender. Put into casserole dish and mash to desired consistency (I like a little texture to mine). Add Oil and cream and mix in well. Add the grated Romano cheese and season with salt and pepper as desired.
Notes
Cauliflower has a lot more moisture in it than does potatoes and then boiling it to death just magnifies the water-logging process. Baking it solves this problem.

Can be made ahead and reheated in a 350°F oven until piping hot.